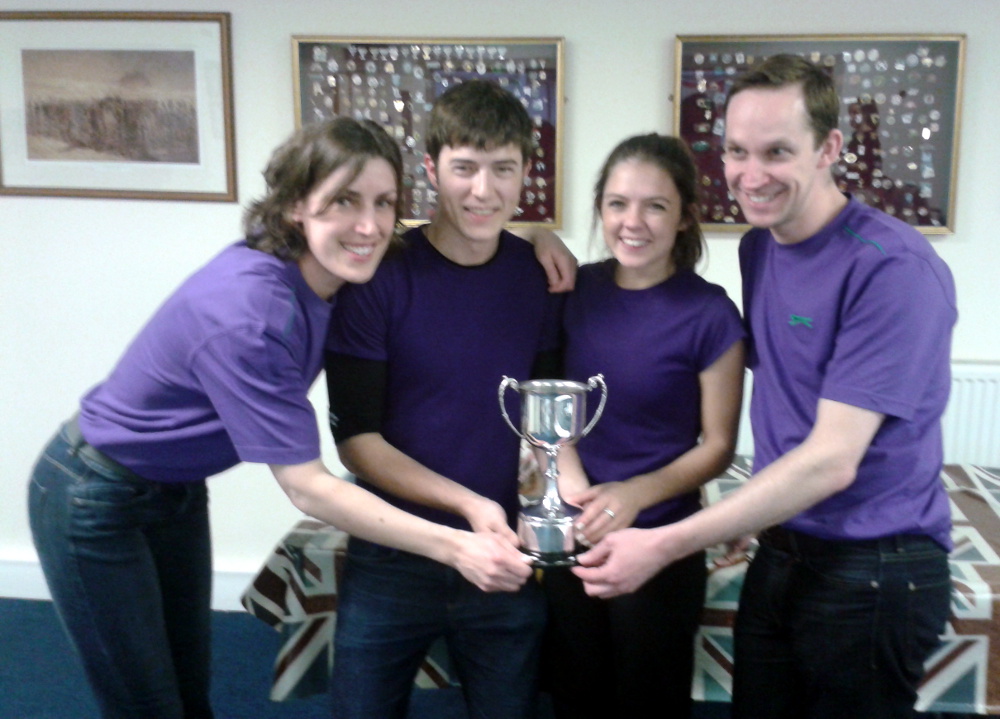 Six teams entered this year's English Mixed Curling Championship at Fenton's Rink. Last year's winners had split up with one retiring and one heading back to Scotland but Lorna Rettig and Nigel Patrick had recruited Anna and Ben Fowler to help them defend the title. Bryan Zachary, last year's runner-up returned with a new second after Kerr Alexander's knee problem flared up at the English Men's Championship two weeks previously. He was replaced by Jonathan Havercroft, while the distaff side was represented by Angharad Ward and Lauren Pearce who had both played with Bryan in the European Mixed in 2012.
One interesting new entry was skipped by Michael Opel who had recruited some North Americans from his work who had not played before, and he spent a number of months coaching them and initiating them in the dark arts of curling. Andrew Woolston was back: having lost the Fowlers to Rettig/Patrick he had recruited Martin and Lesley Gregory and enticed Kirsty Balfour back into Championship curling, four years after she had last played for England in the Europeans.
John Brown was entered with his long term third, Jean Robinson, and had two of the younger juniors Jake Barker and Niamh Fenton as the front end while Arthur Bates had an interesting mix of youth (Sarah Decoine), experience (Steve Amann) and relative novice (Tracey Brown) helping him along.
A single round-robin was the format and the action began after a fairly poor set of LSDs with only Andrew Woolston (0.0cms) getting within three feet of the button! He followed that up by winning a close game (5-4) against Bryan Zachary. John Brown's promising start of a steal at the first end against Ben Fowler was swiftly negated by losing four ends in a row and finally by 3-10, while the third game was a see-saw affair which ended up at 11-10 for Arthur Bates over Michael Opel with Arthur most upset that the three shots he lay in the last end (and possibly five if he had played and achieved a split with his last stone) did not count as he had run Michel out of stones!
Saturday was a long day for all teams with three games on the agenda – another low-scoring game involving Andrew Woolston saw him lose this time (by 3-4) to Ben Fowler while the all-Canadian clash between Bryan Zachary and Arthur Bates was a bit one-sided as Zachary won 10-3. The third game saw Michael Opel's novices jump out to a 6-0 lead versus John Brown only to be pegged back to 6-5. Another single at the seventh did not look like enough as John had a chance to win the game with his last shot but he threw it tight and wrecked giving Michael the win by 8-5.
Into session three and a surprise as Michael Opel took a three at the last end to defeat Andrew Woolston and suddenly the team of newcomers was in contention with two wins. The Zachary v. Fowler encounter was always going to be close and crucial to the final standings and Bryan's progress in the competition and it went to an extra-end with Zachary winning 7-6 thus guaranteeing that there would be a final as all teams had now been defeated at least once. With Arthur Bates beating John Brown there were now three teams on two wins, while the Woolston rink, surprisingly on only one win, could not be disregarded either.
As Saturday drew to a close and weary bodies took to the ice again it was perhaps not surprising that the three most experienced teams all won: Ben Fowler was 4-0 up against Michael Opel and held on to win 6-3, Andrew Woolston stole a five at the seventh end to seal a 10-4 win over Arthur Bates and Bryan Zachary broke away from John Brown after being 4-4 to win 8-4.
As the competition entered the last round-robin session there were five teams still in contention and if results had gone one way then there would have been five teams tied on three wins. Other combinations of wins would have invoked the DSC to decide the top two but in the end the cleanest of options happened with Ben Fowler and Bryan Zachary both winning and finishing clear of the rest on four wins. Andrew Woolston was third on three wins and then Michael Opel and Arthur Bates on two wins and John Brown bringing up the rear on 0 wins.
And so to the final and for the first six ends and thirteen stones this was Bryan Zachary's game. A number of misses by Ben Fowler and his team meant that Bryan led by 6-2 with an empty house facing him at this point when he took a decision that will haunt him for a while – rather than drawing into the rings and probably forcing Ben to try for a one at the most he elected to clear multiple guards to ensure that Ben would have nothing to hide behind with his last stone. A slight misjudgement and two of Ben's guards ended up in the house and Ben immediately added a third to add to the pressure.
It still only needed a straight nose hit for Bryan to take a single which would have meant handshakes but on swinging ice he was a bit tight, missed the target and suddenly it was 6-5. The Fowler team immediately played their best end of the game in the eighth and when Bryan came to play his last stone he was again facing three but had a much harder draw to the button to maybe take one or at least get an extra end by losing one. However he came up short and Ben Fowler, Lorna Rettig, Nigel Patrick and Anna Fowler had won a remarkable game.
They now progress to the European Mixed Championship, venue as yet unknown!
With this competition the ECA Championship season came to an end and here is a reminder of the winners:
Junior Women: Hetty Garnier, Angharad Ward, Naomi Robinson, Lucy Sparks, Niamh Fenton
Senior Men: John Sharp, Tommy Campbell, Keith Wilson, Alastair Fyfe, Mike Robinson
Mixed Doubles: Bryan Zachary, Angharad Ward
Men: Alan MacDougall, Andrew Reed, Andrew Woolston, Tom Jaeggi, John Sharp
Mixed: Ben Fowler, Lorna Rettig, Nigel Patrick, Anna Fowler.
There was no Senior Women's Championship but Jean Robinson, Susan Young, Judith Dixon, Debbie Higgins and Jackie Orr will be playing in the World Seniors in Dumfries.
Ben Fowler, Oliver Kendall, Renz Bunag and Cormac Barry played in the European Junior Men's Challenge.
There was no Women's Championship but we will be sending a team to the European Championships in December.